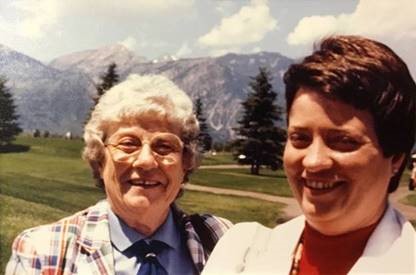 What do you do if you have a good life in Illinois but feel the call of mountains? You get in your car and head west to Jackson, Wyoming. That is what Bev Hofmann did in 1973.
She had been here with her parents when she was five years old and remembered not only the mountains, but also things like someone playing a calliope outside the doors of the Pink Garter Theater on Deloney street. and bears raiding the garbage cans outside their cabin in Yellowstone.
The first day after her arrival in 1973, because of her typing ability, she found a job at the Jackson Hole Guide, where she worked as a typesetter for three years before moving on to other work at the Alpenhoff and the Aspens. In the late 70's, she moved to a job at the Valley Shop in Jackson, an office supply store. Also, in the 1970's, she started doing needlepoint and started her own business, Beverly Designs.
Like most artists, she needed other work, as well. In 1981, she met a woman who worked in medical records at the hospital and Bev decided that job would be a good match for her. She was right—she worked in medical records for 30 years and for the last 6 years before she retired, she worked as a Revenue Cycle Coordinator for the hospital. She also continued her design business.
In 1990, artists were sought to design and make needlepoint chair covers for dining chairs in the Wyoming Governor's Mansion. 24 chairs were commissioned in total, one chair for each county in Wyoming. Bev designed the Sublette county chair, because there was no one from Sublette county to do it. It wasn't a quick task—it took her a year to complete it. 
Bev has sold an original design to a catalog company and continues creating them, but needlepoint design isn't her only creative activity. She has managed craft shows, created amazing mod-podge items, bead work, jewelry, and more. She has worked with copper netting, plastic canvas, and ribbons.
Lucky us to have her in our midst!