Once upon a time, not too many years ago, there lived three sisters in eastern Wyoming. The youngest of these, a pretty and bright little girl, was 22 months old when the three sisters were adopted by a western Wyoming couple who lived near Afton. The couple was happy to have these little girls and after a few years, had four more daughters born to them, so there were seven sisters in the family. The young 22-month-old toddler grew up to be our neighbor here at Legacy, Grace Merritt.
Grace liked living on the farm in Star Valley where she grew up and where her mother was a school teacher. She also liked seeing things grow and appreciated the family's big garden. Grace liked books and read almost anything she could get. She fondly remembers reading while lying outdoors in the grass. She still likes to read and always has books near at hand in her apartment. A farm is a busy place and Grace learned to work early in her life. Each of the family's daughters had many tasks (such as feeding calves, pigs or chickens) and were assigned to prepare some of the family's meals.
Grace met LaMar, the man who became her husband, at a roller-skating rink. He had just come home from his stint in the Army. They married in the Idaho Falls LDS Temple when she was still a teenager. She finished high school after their marriage. Later, she and her husband bought a farm near Bedford where they had around 35 dairy cows that had to be milked, both morning and night. They also raised wheat, barley, and alfalfa on the farm.
Tragedy came into their lives when Grace was still a young wife and mother—her husband was run over by his tractor. The large rear wheel rolled over much of his lower left body. There was no one in Afton who could do anything, but his life depended on receiving help rapidly. With Grace and two others alternating driving and trying to care for her husband, they made the trip to Idaho Falls, over 90 miles away, via a graveled road in 68 minutes. He survived and lived for many more years.
Back on the farm, Grace did all the farming for a time while her mother and mother-in-law helped with the home and children. Later, Grace worked at a creamery which was popular not only for cheese, but also for the pies people could buy there. One of her jobs was to make the pies, often 100 of them a day, which everyone liked a lot.
Grace and her husband had five children. Three of them live in Star Valley and two are in Logan, Utah.
I'm sure we all appreciate Grace's creativeness—not everyone could make a tin can man, fashion a woman's head from a bowling alley pin, or create some of the other wonderful arrangements outside her apartment.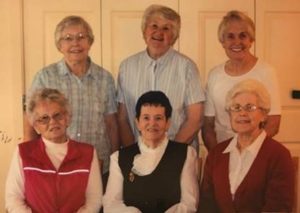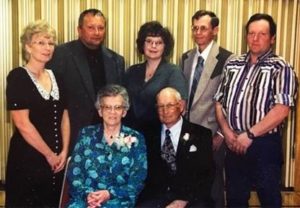 ​