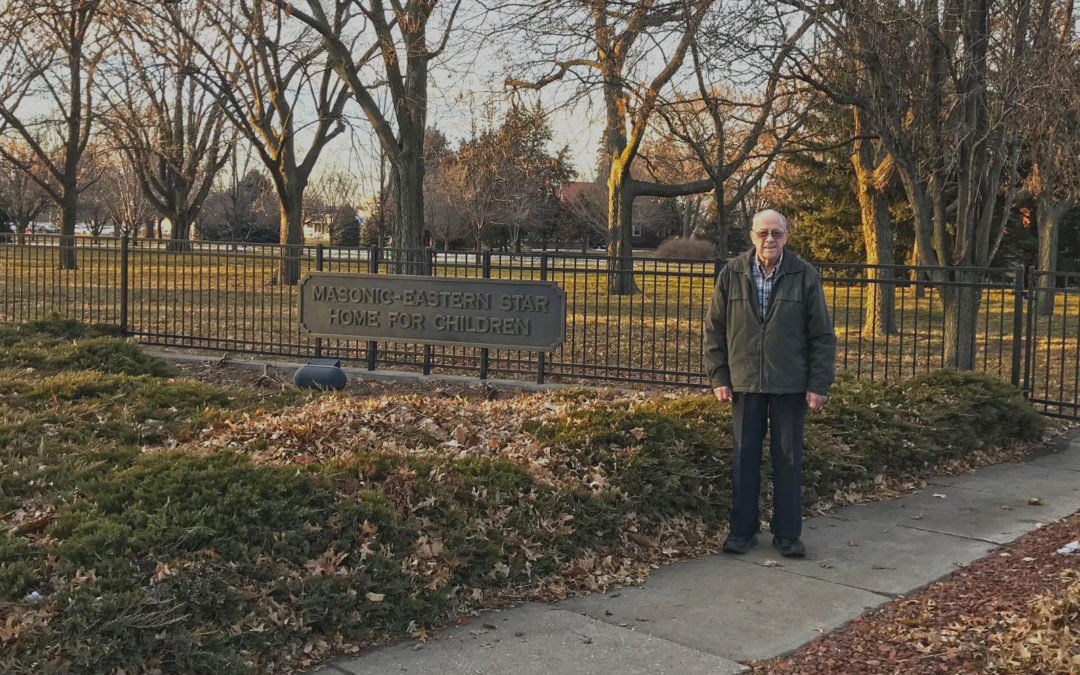 Charles Edward House (Ched House), a Nye Square resident, was uncertain of his future when he was brought to the Masonic-Eastern Star Home for Children (M-ESHC) in Fremont, Nebraska at age 14 by his mother, who was a member of the Order of the Eastern Star. While serving as the president on the Board of Directors of the Children's Home for 32 years, he looks back on his experience with a grateful heart, knowing The Masonic Home held an experience most kids only dream about — a safe and supportive environment, encouraging them to thrive in life and pursue their dreams.
Ched was born on October 31st, 1924 in Omaha, Nebraska where he lived with his mother, father, and his older brother Rodney. His family experienced an event that changed the trajectory of their lives in an instant. Their husband and father died of a sudden heart attack at age 41 leaving two teenage boys and a wife with no source of income to fend for themselves.  His mom was left to endure the economic hardships on her own. She was forced to give up the house, and two years later, upon taking on a better paying job in Sioux City, IA, she was forced to part ways with her kids — an emotional hard set of events. Rodney graduated which qualified him to enlist in the armed forces, and Ched, a freshman at Omaha North High School, quickly found the Masonic-Eastern Home for Children in Fremont, Nebraska.
His father had been a Mason for several years, therefore, Ched was fortunate enough to have had a connection with M-ESHC prior to his father passing.  Ched's earliest memories of the Home rooted back to the annual picnic where he, and other kids from The Home, fished Vess soda pop out of a stock tank filled with water, blocks of ice, and watermelons. Listening to his father play in the Shrine band and dixieland band at the Home's annual picnic also became a fond memory.
At the time of his admission, M-ESHC consisted of four two story buildings called "cottages", each housing 15-16 children and a full working farm. The kids learned how to take care of themselves by cooking, setting the table for meals, and cleaning. The boys also learned how to raise and butcher their own livestock for their food supply.
Ched settled into the home very quickly, and found himself working on the farm detail – raising pigs, chickens, cows, plowing the fields using their own working mules, and delivering five gallon milk cans of fresh milk to the cottages each morning and night. He relished in his purpose on the farm.
When asked if it was hard being away from his mother, he said, "it was always nice to see her, but the farm became my home, and I was always excited to get back with the kids." He was living a dream.
During his junior year at Fremont High, he became a trusted driver and was privileged to chauffeuring the cottage parents to and from their personal churches each Sunday.  He attended church himself and was an usher.  When he finished church duty, he would pick the parents up and take them home.
In 1942, Ched graduated from Fremont High and went off to college in Lincoln, Nebraska.  WWII interrupted his plans and he served in the military for a year before he was medically discharged back home.  With no place to return, M-ESHC welcomed him back with open arms until he was able to figure out his next steps in life.  He continued to stay closely connected with the home visiting Mr. Hartman, who was the executive director and father figure to him.
Ched had been dating a lovely lady, Ruby Gifford, whom he met in choir his senior year of high school. They dated throughout college, and Ched explained how he would hitchhike six hours to visit Ruby at Drake University in Des Moines, Iowa and how he'd take the train back to Lincoln following their visit. In 1946, Ruby gave him a ring at Christmas for becoming a Master Mason.  This ring represented the Freemasonry symbol — a square and compasses featuring a "G" in the center. Both the square and compasses are architect's tools and are used in the Masonic ritual as emblems to teach symbolic lessons. This ring also is a symbol of loyalty to the masonry mission and values, and a loyalty to each other. He said, "By this time, I knew she was really liking me."  He was right, they later married on June 22, 1947 and raised two children of their own, Leslie and David.
Ched and Ruby were in business together with Ruby as the book keeper and Ched as the manager. They managed and renovated alfalfa meal warehouses in Grand Island and Valley. They later managed a lumberyard together in Arlington, and went on to own and operate it for 36 years. When asked about retirement, he chuckled and said "I've retired three times – age 65, 75, and 85."
Along the way, he emerged himself in giving back to The Home by working his way up through the Eastern Star, Grand Chapter, and onto the board of M-ESHC in 1984.  His wife, Ruby was also active with The Home serving on the board from 1967 to 1974. After two years on the board, Ched was nominated and elected president, and has been re-elected each year since. He humbly serves this position and at 93 years old, has 34 years under his belt.
He looks back and feels as if he had a chance at life when his world was dismantled as a young teenager. Full of gratitude, he's thankful for the experience which taught him how to be a successful citizen, husband, father, and friend in a world that holds many uncertainties, never once questioning the dreams that live at M-ESHC. A dream that now runs thick in his blood as he continues to serve and dedicate his service on helping a child and family like the home did for him. He concludes saying, "Once a Home kid, always a Home kid."