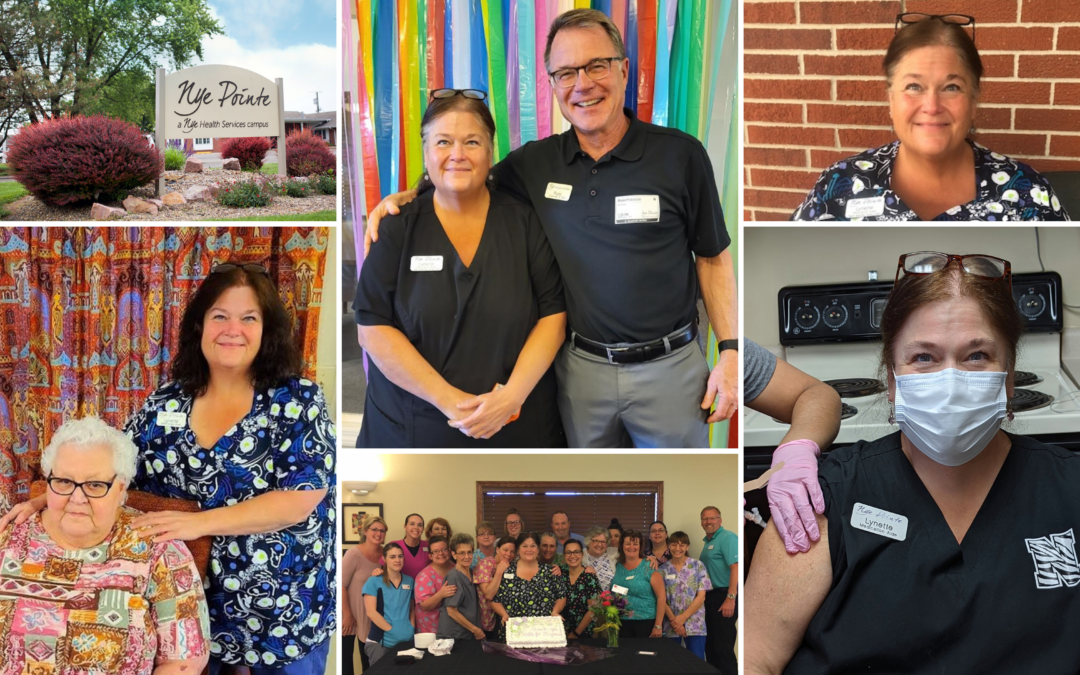 Nye Health Services is celebrating Lynette Winter and her 40 years of service at Nye Pointe in Fremont, NE. Nette started with Nye Health Services in 1982 as a Medication Aide. While many things have changed over the years, her commitment to providing excellent care to the residents has always been the same.
Celebrating 40 Years of Care and Compassion
In 2005, Nette was awarded the NHCA Direct Care Staff Award for her leadership and dedication to the residents and team members. She was also the team leader for the Eden Journey program from 2005 to 2015. Today, Nette continues to grow professionally by leading the Mentor program for the Medication Aides. When we asked Nette what her favorite part of the job was, she smiled and said, "Working with the residents and getting to know them along with their families!"
Her team members will tell you, from her easy laugh and gentle and caring demeanor to her knowledge of her job and the residents she cares for, she's the best!
Thank you, Nette, for all the lives you have touched over the years with Nye Health Services! We are very thankful and look forward to more fun and laughs!
About Nye Health Services
Nye Health Services offers five campus locations in Eastern Nebraska, structured to meet the needs of their residents. Services offered by Nye Health Services include:
Nye Health Services is a family-owned company with a rich history of connecting with the people they serve. We are passionate about providing award-winning care to each resident. Call 402.753.1400 to schedule an appointment to tour one of our campuses in Fremont, Lincoln, or Norfolk, or visit NyeHealthServices.com for more information.
Nye Health Services | Independent & Assisted Living Communities
Nye Health Services is passionate about providing older adults with a wide range of wellness and health services that maximize health and well-being. If you are searching for a senior living community, explore one of our five locations in eastern Nebraska. Each campus provides award-winning health and wellness services, comfortable apartments and/or suites, and numerous amenities to help you live 2022 to the fullest! Contact us today to learn more about what sets Nye apart or to schedule a tour of a community near you!
For additional information about Nye Home Health Care visit us at nyehomehealthcare.com